IMMEDIATE ACTION REQUIRED
Inspection Notice – 3M™ DBI-SALA® ExoFit NEX™ Harnesses
3M Fall Protection has learned of the possibility of a manufacturing defect in a dorsal D-ring of ExoFit NEX™ harnesses manufactured between January 2016 and December 2018. Although there have been no reported incidents involving this condition, a dorsal D-ring with this defect will not support the load in a fall arrest event which could result in serious injury or death. Harnesses manufactured only within this date range require immediate inspection for lot number 09P1 stamped into a dorsal D-ring. We believe that only one harness was manufactured with a defective D-ring, but we urge inspection of all potentially affected harnesses out of an abundance of caution in the interests of worker safety.
End Users: Upon receipt of this Notice, immediately inspect your harness following the steps below:
Step 1: Locate the label pack on the harness to identify the manufacturing date. If the harness has a manufacturing date of 16/01 (2016, January) through the end of 18/12 (2018, December), continue to step 2. If the harness is not in this range, the unit is not impacted by this notice. If the harness is within this date range, continue to step 2.
Step 2: Locate the D-ring on the back of the harness to inspect for a stamped lot date of 09P1. If you find a D-ring with code 09P1 and the harness has a manufactured date within the affected date range, take the harness out of service immediately. If the D-ring is not stamped with code 09P1, you may continue using your harness.
Please note that both the manufactured date range (2016, January through 2018, December) on the harness label AND the lot number code 09P1 stamped on the D-ring must be present on the same harness for the harness to be considered suspect and removed from service. All other harness/D-ring combinations are acceptable for use.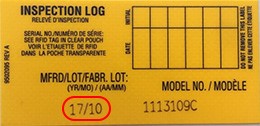 Step 1 Manufacture Date on Harness Shown in Red Circle – must be between 16/01 (2016, January) and 18/12 (2018, December)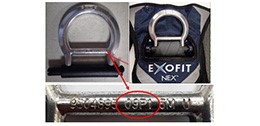 Step 2 Lot Code Stamp Location on D-ring – lot code must be (09P1)
End-users: If you find an affected harness, take the unit out of service immediately. You can contact us at Safety Landry Customer Service at 1-800-465-6005 to return your harness.
3M remains committed to providing quality products and services to our customers. We apologize for any inconvenience that this situation may cause you or your customers. We appreciate your continued support of 3M Fall Protection products and services.
April 16th, 2019